About Us
---
Established in 1991, Exeloo has remained at the forefront of intelligent public toilet design in New Zealand, Australia, and North America. Exeloo offers the full spectrum of designs to match almost any budget from the basic, manual specifications to our signature fully automated, self-cleaning models with remote monitoring functions.

Our business DNA stems from a fearless focus on innovation to deliver resilient, hygienic and safe public toilet systems. Our international experience with Changing Places, Lift and Change and Boundless compliant programmes means that Exeloo takes the lead in the development of prefabricated build systems for more socially inclusive public spaces.


Three great reasons to work with Exeloo
Relocatable

The Exeloo whole-of-life design approach offers a relocatable, modular building design largely eliminating demolition and rebuild costs in the event that the use of a public space changes. The Exeloo toilet unit can be easily relocated elsewhere in the network or seamlessly augmented to realign with the new environment.
Operational Efficiency
Automation features provide advantages that are proven to reduce operational costs by more than half of those of traditional block public toilets. Metered consumables, auto wash and auto lock features dramatically reduce service costs when compared with traditional toilet blocks.
Rapid Deployment
Exeloo units are prefabricated in a factory environment and transported to site, ready for rapid installation. This reduces on-site construction costs and public disruption with most units able to open within a few days of delivery.
We work closely alongside council planners and facilities teams to simplify complex projects through early involvement and a consultative approach. The benefits of prefabrication are many although reduced project costs and shortened installation timelines often at the core of project deliverables.
Exeloo designs, builds and installs public toilets for parks and reserves, city centres, community spaces and retail and transit centres. Wherever you need a public toilet, Exeloo will have the design option and budget to suit. Take a look at our models /units.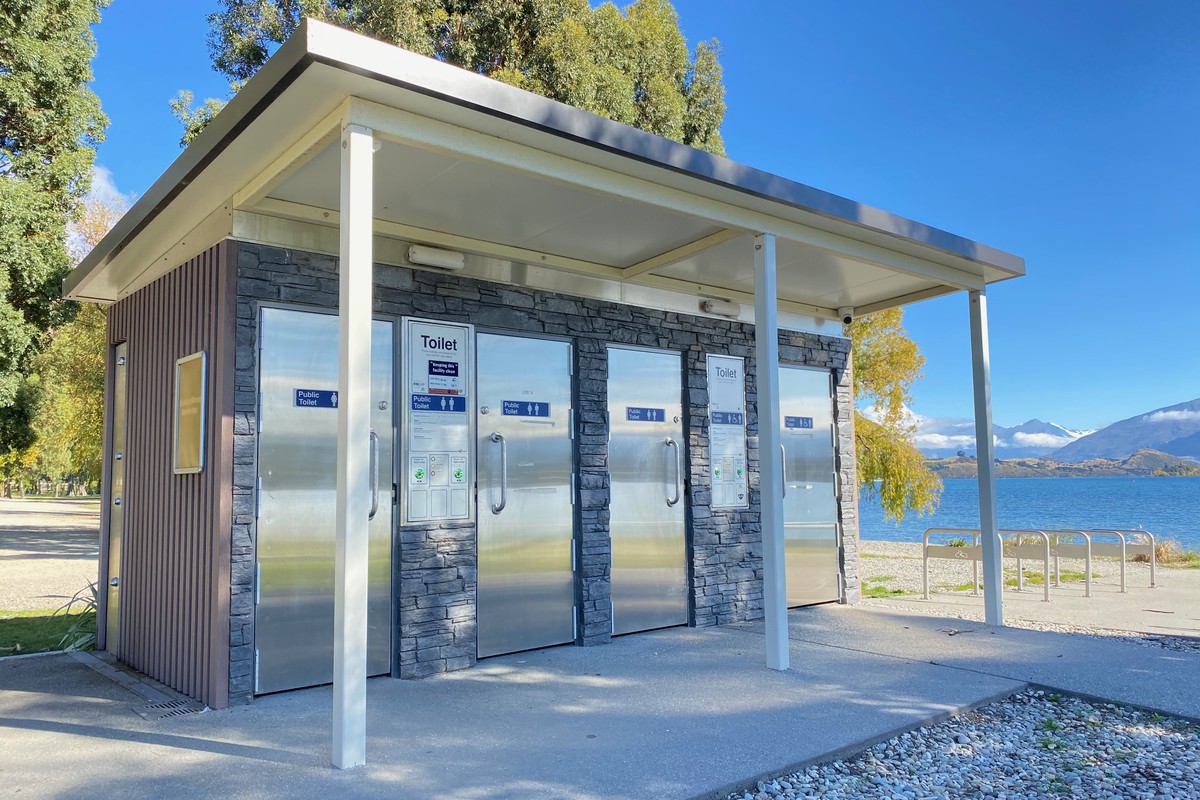 Our History

Exeloo was founded in 1991 as a family business by Dan and Christine Glew with a mission to raise the standard of public toilets in New Zealand by solving the social problems caused by traditional single sex, multi-cubicle toilets. The first toilet was sold to Auckland Council in 1992 and was until recently still in operation at Craigavon Park in Blockhouse Bay. Exeloo core design principles remain unchanged today, driven by the desire to improve the design of accessible features and enhance safety for families.
Inspired by aspects of public toilet design overseas, Dan and Chris focused on smart engineering and the innovative use of technology to set about designing the first automated public toilet in Australasia.
Following some early success in New Zealand, Exeloo quickly attracted offshore interest and a distribution agreement was reached with Australian company, WC Innovations in Melbourne. This company remains a close brand partner.
Realising that the Exeloo design had universal appeal, the business turned to North American markets. The contactless environment inherent in our design is catching on and has recently won universal recognition. Exeloo won a national design award in the USA before being named 'Best Restroom in America' in 2020.
Our can-do approach has led Exeloo to develop a delayed customisation approach that appeals to Landscape Architects and Local Government Facilities Planners. A core product offer that can be overlayed with unique design features from roofing and cladding to bespoke cubicle designs. This remains an important point of difference for Exeloo and is at the heart of our business culture.
Today Exeloo is owned and managed by Craig van Asch and Andy Harris, former Exeloo employees whose belief in the company and product led them to buy the business in 2020. The family culture and passion for the business continues with two sets of fathers and sons and a set of brothers all working in the business.
Call Exeloo to discuss your next project.